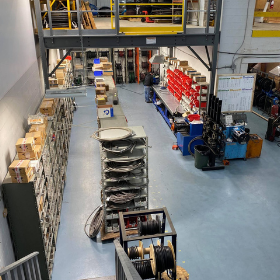 SUPPLY
We have the largest selection of hose and fittings, both metric and imperial, in Atlantic Canada and a 24 hour on call service to meet your breakdown requirements. Our Express Center can turn your walk-in hose, tube or fitting problem into a solution while you wait. We also have a large variety of industrial supplies to meet your industrial needs.
find out which products we carry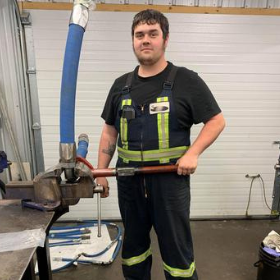 SERVICE
Our qualified technicians can deal with most hydraulic systems, services and repairs as well as fabrication and repair of hydraulic cylinders. We will have it running properly and efficiently as fast as possible. We custom design/build power units and hydraulic systems to your specification with competitive pricing on a variety of products.
Read More about our Services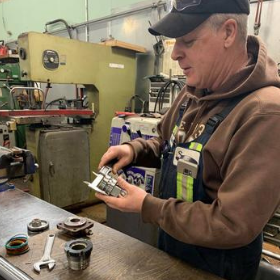 MACHINING
Whether your requirements range from individual components, to complete design and manufacturing solutions, our machinist has the experience and proven track record to deliver. He can perform work on all aspects of machining large or small which consists of cylinder repair, rebuild, fabricate new and other custom machining.
contact us for all your design needs
I am just writing you a short email to let you know how impressed I was with the service that I received from your company and in particular Hunter, not only did he deliver the parts to us on Hammonds Plains Road on a Friday afternoon at 6 pm but he also did not hesitate to jump in his truck and drive to our Vessel that was at Pier 9 in Halifax, pick up samples for us and deliver them back to the Vessel!!  I worked in the service industry for 22 years before coming to work with Mersey Seafoods and I have to tell you that service like this does not come around every day anymore!!!  I would like to say thank you very much Hunter for going above and beyond to help us out, but I would also like to say thank you to whoever trained him because it is a big bonus to have individuals and companies that will deliver this kind of service!!!  Keep up the good work and I will continue to use your company in the future!!

WILL BAKER PURCHASER, MERSEY SEAFOODS LTD.
I don't think a lot of people realize the importance of having service, co-operation, rapport with a vendor. I try not to abuse asking for something to be done while the driver waits but our maintenance has a quota of buses which they have to have available on any given day. We may have a lot of buses but between the two branches we can have anywhere from 20-40 out of service at any given time. When we can't meet quota the poo-poo can really hit the fan because a bus route is now without service. I just wanted to let you know that the over and above service you offer doesn't go unnoticed. Thank you.

DAVE HISCOCK, H.R.M
I just wanted to let you know the outstanding service I received from your employee Ryan Doucet this morning. I had quite an unusual request and Ryan went above and beyond in order to help me. Before contacting your shop I had already tried a whole slew of hydraulic supply vendors but wasn't able to get what I was looking for. Ryan communicated clearly, understood the urgency of what I needed and provided the solution we needed to help get our customer out of a pickle. Because of Ryan's prompt response and knowledge, we've made a lot of people every happy! Please give Ryan the recognition he deserves! Thank you for your time.

CHRIS ROACH, TOROMONT CAT